Veteran's Day 2013: How the Air Force prepared Iberdrola tech for the wind game
By Andy Giegerich
Digital Managing Editor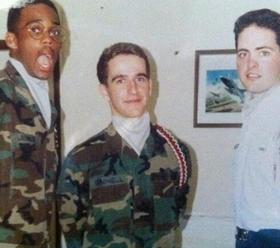 Iberdrola's Paul Rummell (middle) during his Air Force days.
As military men and women who have served our country get their dues today, it's a good time for SBO to meet a veteran who's parlayed his experience into a green-industry career.
Paul Rummell started his career in the Air Force. Today, he works for Iberdrola Renewables' National Control Center in Portland. (This nifty and short video details Rummell's career path).
As part of our Veteran's Day coverage (Suzanne Stevens has this great story over at the PBJ website on how lessons vets learned during their service stints), we grabbed a few minutes of Rummell's time to ask him how his military role prepared him for the Iberdrola life.
Sustainable Business Oregon: What do you do, and how long have you been doing it?
Paul Rummell: I work as a generation dispatcher in the National Control Center for Iberdrola Renewables. Our primary responsibility is to monitor and integrate our dynamically scheduled wind assets on an open energy system, balancing wind generation with other power sources, including solar, combined cycle cogeneration natural gas plants, biomass and hydro resources. NCC has assets in six regions, totaling 18 states across the United States. NCC monitors the output of nearly 4,500 wind turbine generators in 60 wind parks. Our team of 14 dispatchers monitor Iberdrola assets on a 24/7 basis, with three-man teams in 12 hour rotations.
I have been with Iberdrola in many capacities, starting in facilities, then as an IT help desk technician, before joining the National Control Center team five years ago, when we had only 10 wind parks.
SBO: How did the military prepare you for what you're doing now?
Comments
If you are commenting using a Facebook account, your profile information may be displayed with your comment depending on your privacy settings. By leaving the 'Post to Facebook' box selected, your comment will be published to your Facebook profile in addition to the space below.