Walmart's experimental ecoroof to debut Wednesday
By Wendy Culverwell
Staff Reporter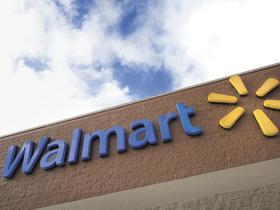 The new Walmart store at Delta Park, 1123 Hayden Meadows Drive, features a 40,600-square-foot green roof.
Portland's first new Walmart Supercenter in nearly 20 years opens Wednesday morning.
The new store at Delta Park, 1123 Hayden Meadows Drive, is the second Walmart Supercenter inside Portland city limits since the Bentonville, Ark.-based retailer opened its first local Supercenter at Southeast 82nd and Holgate 18 years ago.
The new store opens with a ribbon-cutting ceremony at 7:30 a.m. Nov. 13 and boasts Portland's largest-ever ecoroof, an experiment that will serve as a living laboratory for rooftop sustainability measures.
The 40,600-square-foot green roof is being operated under a two-year partnership with Portland State University's Green Building Research Lab. PSU researchers, with support from the Cadmus Group and the Audubon Society of Portland, are deploying remote sensors and a weather station to study how well the roof meets its green goals. The balance of the store's roof will have a 52,000-square-foot white membrane roof for comparison purposes.
Comments
If you are commenting using a Facebook account, your profile information may be displayed with your comment depending on your privacy settings. By leaving the 'Post to Facebook' box selected, your comment will be published to your Facebook profile in addition to the space below.