Boeing environmental head: Strategy shift yields improvements
By Andy Giegerich
Digital Managing Editor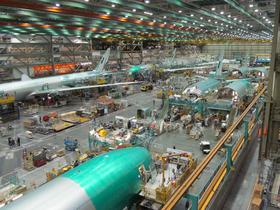 Boeing is incorporating more sustainability programs at all of its plants.
Terry Mutter concedes that his employer, Boeing Co., doesn't often crow about its sustainability programs.
Which is too bad because his company has a lot to offer to the discussion. Boeing has actively, and successfully, sought to reduce its carbon footprint, in its operations, for the past five years. It's also espousing more research into renewable energy forms as well as realigned the environment, health and safety functions that Mutter oversees with its technology and engineering arms.
"We realized we could think about the environment in strategic ways and in ways that could benefit our business," said Mutter, noting that the company began doing so in a more pronounced fashion in 2007.
Mutter, the aviation giant's director of enterprise strategy and EHS, made the revelations during a gripping discussion at the Northwest Environmental Conference and Tradeshow. The event, at which Mutter gave the Tuesday keynote address, drew hundreds of industry leaders to Portland on Tuesday and Wednesday.
Among Boeing's greatest successes: Over the past five years, the company has reduced the carbon dioxide it emits by 9 percent and slashed water usage by 2 percent. It also reduced the amount of waste it sends to landfills by 36 percent.
Boeing has also committed to a carbon emissions growth rate of 0 percent.
"It requires lofty goals and harnessing the will and dedication of a lot of talented people," Mutter said. But by spotlighting its EHS goals, Boeing "allowed us to take this function and (spread) it across the entire company," he added, noting that EHS quickly became embedded in all parts of Boeing's business.
Comments
If you are commenting using a Facebook account, your profile information may be displayed with your comment depending on your privacy settings. By leaving the 'Post to Facebook' box selected, your comment will be published to your Facebook profile in addition to the space below.