Sustainable coffee outlets face higher prices as growers address crop disease
By Lee van der Voo
Contributing Reporter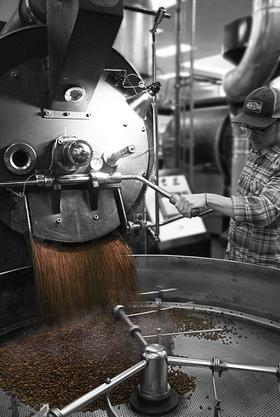 The crop disease could affect such Portland coffee purveyors as Portland Roasting (pictured) and Coava.
Specialty coffee roasters are bracing for possible supply shortages as a destructive fungal disease known as la roya is ravaging coffee farms in Central America.
As a result, the roasters are feverishly working to educate farmers about the condition, which is also known as coffee leaf rust. The fungus affects the leaves of coffee plants, making it difficult for plants to provide proper nutrients to the cherries harvested for roasting.
A recent survey of 111 growers showed la roya has affected 85 percent of farmers. Thirty percent of those expected a 25 percent loss of crop this year. About 15 percent are expecting to lose 50 percent of crops or more.
Last harvesting season, estimates pegged la-roya-related losses in the coffee industry between $500 million and $1 billion.
In Portland and throughout the world, those numbers spell trouble for specialty coffee roasters that rely heavily on Central American imports. Though speciality coffee is a small part of the American coffee market overall, and only a portion of all coffee is sourced in Central America, specialty roasters procure about 30 percent of their high quality coffees from Central America.
"Central American coffee makes up about 40 percent of our overall coffee purchasing," said Andy Davis, marketing associate at Portland Roasting Coffee, which is preparing for similar impacts from la roya when harvest wraps up next spring. "At this point the main thing that we are doing is casting our net a little bit wider. So we are having to look for more farms that we can partner with to keep our supplies up."
Davis said long term supplies are at risk as la roya puts some small farmers out of business.
Comments
If you are commenting using a Facebook account, your profile information may be displayed with your comment depending on your privacy settings. By leaving the 'Post to Facebook' box selected, your comment will be published to your Facebook profile in addition to the space below.