A look at where NuScale makes the power happen (Photos)
By Andy Giegerich
Digital Managing Editor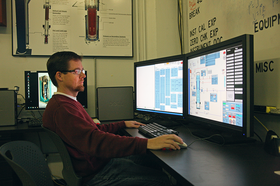 Cathy Cheney | Portland Business Journal
NuScale Power's test facility manager Ryan Everett, mans a control at Oregon State University. OSU, which works closely with NuScale, operates a test facility for prototype reactors. Click through for more shots from Corvallis, home to the NuScale company that's hoping to make its mark in the small modular reactor game.
In Friday's Portland Business Journal, we're taking a deeper dive into the convective- and gravity-filled world of NuScale Power.
NuScale, of course, made headlines last week when it snagged a big-time award (up to $226 million) from the U.S. Department of Energy. The Oregon State University spinoff will use the money to help develop its small modular nuclear reactors.
Our stories will look more closely at nuclear's growing credibility as a relatively clean energy form. We'll also report how NuScale will go about developing its business plan as it seeks to commercialize its technology by 2025. One hint: They're very much hiring.
And we'll address questions that still exist over whether nuclear remains a safe power form whether it's actually hitting local power grids.
Photographer Cathy Cheney travelled to NuScale's Corvallis research facility this week and and took some shots of the company's surroundings. Click through on the picture above for a gander at her camera handiwork.
Comments
If you are commenting using a Facebook account, your profile information may be displayed with your comment depending on your privacy settings. By leaving the 'Post to Facebook' box selected, your comment will be published to your Facebook profile in addition to the space below.