Deal keeps OpConnect in the Navy
By Andy Giegerich
Digital Managing Editor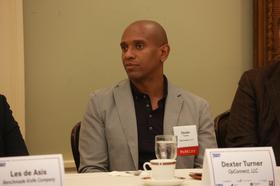 Dexter Turner's OpConnect will add even more chargers at U.S. Navy spots near the East Coast.
A Portland electric vehicle charging specialist has set sail on an important federal government mission.
OpConnect revealed Monday the U.S. Navy has ordered an additional five units of its charging station for its Anacostia-Bolling base in Washington, D.C.
Service personnel are using the power stations as part of an expanded pilot program for electric vehicle readiness in the branch's facilities.
OpConnect had installed 10 other EV charging stations at Navy spots in Virginia, Maryland and San Diego.
The Navy cited OpConnect's multi-port design, ability to accept multiple payment types and touchscreen technology as the reasons for re-upping the company's wares.
"We are pleased that the U.S. military is taking a leading role in adopting electric vehicles as just one way we're reducing our dependence on foreign oil," said Dexter Turner, OpConnect's president.
Comments
If you are commenting using a Facebook account, your profile information may be displayed with your comment depending on your privacy settings. By leaving the 'Post to Facebook' box selected, your comment will be published to your Facebook profile in addition to the space below.