UO prof delivers an InStove to Eugene transitional housing residents (Photos)
By Andy Giegerich
Digital Managing Editor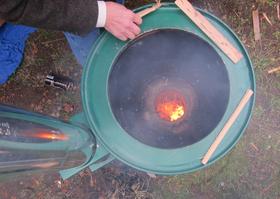 Eugene's Barbara Aldave made what's believed to be the first donation of a cleanstove to a U.S. humanitarian group. The 60-liter InStove is now being used by residents at Eugene's Opportunity Village. Click through for more pictures that show the InStove in application.
The Cottage Grove company that's distributing clean cookstoves throughout the world said this week the first such stove has been placed "in a humanitarian setting" in the United States.
The 60-liter stove was made by Institutional Stove Solutions and provided by Barbara Aldave to Opportunity Village, a transitional housing community in Eugene. Aldave is an Oregon law professor.
InStove is a nonprofit that has provided its stoves to 22 foreign countries, including developing nations in Africa. The stoves are solid-fuel natural draft cooking units that are designed to burn small amounts of small wood or other biomass materials, doing so while smoke is redirected away from the users.
Aldave decided to purchase the unit for Opportunity Village after hearing a radio piece about the community. InStove's Director Fred Colgan worked with Opportunity Village Chair Dan Bryant and the fire marshal's office to collect approval for InStove's use.
"The villagers are really excited," Bryant said in a release. "The hope is to cook community meals for the entire village. They're using scrap wood to fuel it. It will save on propane expenses."
The early returns from users are good.
"There's a million ways we can go with it, a million things we can cook," said Diane, who like other residents did not give her last name. "I think it's awesome," said Rhonda, a resident. "I'm looking forward to making soup. Soups are one of my specialties, and this [stove] would be perfect for it. This is perfect weather for homemade soups and stews."
Click through on the photo above for more shots of Opportunity Village residents using the InStove unit.
Comments
If you are commenting using a Facebook account, your profile information may be displayed with your comment depending on your privacy settings. By leaving the 'Post to Facebook' box selected, your comment will be published to your Facebook profile in addition to the space below.