Little Boxes promo extends to end of holidays
By Andy Giegerich
Digital Managing Editor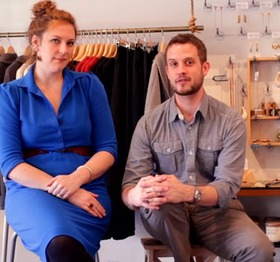 Betsy Cross (left) and Will Cervarich will extend parts of the Little Boxes program to the end of December.
The Little Boxes shopping program ˜ a Portland-driven locally sourced answer to Black Friday ˜ will be extended through the rest of the month.
Some 29,000 shoppers are participating in the program's raffle, a figure that organizers said "obliterated" entries logged in Little Boxes' previous two years.
Another 2,300 users downloaded the Little Boxes iPhone app last month. during the month of November, creators Betsy Cross and Will Cervarich have opted to keep the mobile directory of over 200 participating little box stores operational through December.
"This year's Little Boxes really showed us the level of consumer demand for shopping locally," said Betsy Cross, Little Boxes co-founder. "We want to make it easy for people to use Little Boxes as a resource to discover and explore our city's awesome retail scene."
The raffle's prizes include a trip, an iPad and a $600 shopping spree.
Comments
If you are commenting using a Facebook account, your profile information may be displayed with your comment depending on your privacy settings. By leaving the 'Post to Facebook' box selected, your comment will be published to your Facebook profile in addition to the space below.