'Living' trees decorate sustainably minded revelers' homes (Photos)
By Andy Giegerich
Digital Managing Editor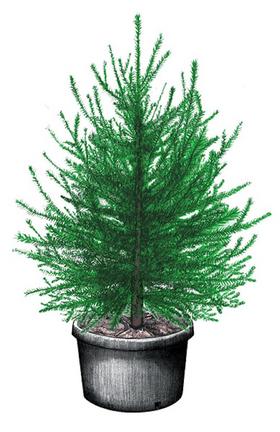 The Original Living Christmas Tree Company's trees are delivered in pots to customers who want to either replant the holiday accouterments themselves or donate them to other entities. Click through for a couple more shots of how the company's seasonal offerings look both inside and outside the home.
After 20 years, a Portland company continues to make it easier for eco-minded holiday revelers to purchase seasonal trees.
The Original Living Christmas Tree Company offers potted trees that, once the season is over, can either be planted or donated to, say, a local parks department or arborists' group.
The business also delivers the trees to customers, eliminating the carbon-burning task of visiting Christmas tree lots.
"We're an option for folks who might not otherwise want trees," said John Fogel, the company's founder.
The company also provides an option for those who aren't crazy about decorating an artificial tree.
Fogel's been at the potted Christmas tree switch since 1992. Once customers place their online orders, the company will bring the full-size potted evergreen trees to residences and businesses. The company then picks up unplanted trees after New Years Day.
The Christmas tree industry is about a $100 million a year sector, with tree prices averaging around $20.
However, those trees are generally disposed of immediately after the holiday.
The Original Living Christmas Tree Company sells its trees (which range from six feet to seven-and-a-half feet) for between $70 to $115. The company offers cedars, junipers, pines, spruces and firs.
Click through on the picture above for a couple more shots of the Original Living Christmas Tree Company's wares.
Comments
If you are commenting using a Facebook account, your profile information may be displayed with your comment depending on your privacy settings. By leaving the 'Post to Facebook' box selected, your comment will be published to your Facebook profile in addition to the space below.