NE Portland cycling nonprofit's holiday work: It's love at first bike (Photos)
By Andy Giegerich
Digital Managing Editor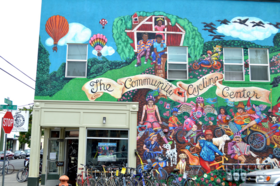 The nonprofit Community Cycling Center operates from a Northeast Alberta Street storefront, where it operates a store and distributes bikes and supplies on the city's north and east sides. Click through for a closer look at the organization.
To introduce the nonprofit Community Cycling Center, it's best to start with a few numbers. Spoiler alert: These numbers contain such metrics as the words "million" and "tons."
As in: The Community Cycling Center generates more than $1 million in revenue from its nonprofit bicycle and cycling supplies shop. It expects to recycle 18 tons of metal this year. It expects to recycle five tons of rubber.
---
Cycling through: Community Cycling Center's smooth operations
---
Perhaps the Center's best number, or at least one that certainly befits this holiday season, came down the pike last Sunday. Around 400 children hit Legacy Emanuel Hospital and received bicycles, helmets and a healthy dose of safety education from Community Cycling Center volunteers.
The bikes were refurbished by Center volunteers — nearly 900 lend their time to the group's efforts — and distributed to children who qualify for free or reduced-price lunches at their schools who also do not own bicycles.
"We serve a population that suffers from a lack of resources," explained Mychal Tetteh, the group's CEO. "We focus on people and prioritization."
The Holiday Bike Drive fits nicely with the Center's mission: The nearly two-decade-old nonprofit wants to "build a vibrant community where people of all backgrounds use bicycles to stay healthy and connected."
As such, it operates a storefront, complete with a smashing mural, at Northeast Alberta Street and 17th Avenue. While the shop sells its share of high-end bicycles (largely donated), it also allows tinkerers to purchase parts for as little as 50 cents a pound.
Its basement also serves as a restoration station for the bikes that are both sold in the store and distributed through the Holiday Bike Drive and other events.
Comments
If you are commenting using a Facebook account, your profile information may be displayed with your comment depending on your privacy settings. By leaving the 'Post to Facebook' box selected, your comment will be published to your Facebook profile in addition to the space below.