Oregon Business Plan: Spreading the natural wealth
By Andy Giegerich
Digital Managing Editor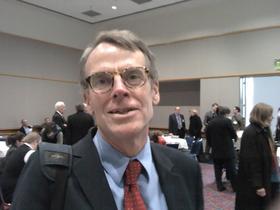 Richard Whitman, who advises Oregon Gov. John Kitzhaber on water issues, noted at the Oregon Business Plan's Leadership Summit that some $20 million in bonding is available to help resolve rural water issues.
An afternoon Oregon Business Plan Leadership Summit panel on forestry issues put a tidy cap on a day loaded with calls for more rural economic investments.
"We've probably heard more about rural Oregon this morning than we did in the last four Summits" combined, said NW Natural's CEO Gregg Kanter. "Which is good, because we're in this together, and there's great potential out there around natural resources."
Kanter joined several business advocates and policy-driven representatives on a panel called "Unlocking Oregon's Natural Wealth to Restore Rural Prosperity." The panel came toward the end of the Oregon Business Plan's 12th such event, held Monday at the Oregon Convention Center.
The events serve to craft legislative agendas, primarily at the state and federal levels.
Earlier in the day, Oregon Gov. John Kitzhaber called for making rural poverty a centerpiece of the state's economic revitalization strategy. The situation was illustrated during the "Natural Wealth" panel when ECONorthwest's John Tapogna revealed that employment rates in the state's rural areas are currently about 75 percent of the nation's average. In Oregon's metro areas, the figure is closer to 95 percent.
To that end, the Oregon Business Plan is calling for lawmakers and policy guides to:
Improve forest health and rural economies while preventing fire through active forest management.
Accelerate forest restoration activities on Eastern Oregon's federal forests.
Agree on and implement an Oregon and California forests solution.
Promote the innovative use of wood products.
Implement a new state biomass strategy.
Promote sustainable harvests on state forests.
Comments
If you are commenting using a Facebook account, your profile information may be displayed with your comment depending on your privacy settings. By leaving the 'Post to Facebook' box selected, your comment will be published to your Facebook profile in addition to the space below.