Plans for SE Portland's 'Goat Blocks' starting to crystallize
By Wendy Culverwell
Staff Reporter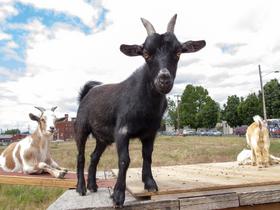 Vancouver-based Killian Pacific intends to construct a 257-unit apartment complex with more than 80,000 square feet of retail space at the Southeast Portland property currently home to the Belmont Goats.
Vancouver-based Killian Pacific wants to construct 257 apartments, 84,000 square feet of retail space, a parking garage and plazas on the Southeast Portland site affectionately dubbed the "Goat Blocks."
The Portland Design Commission takes up Killian Pacific's request for design advice for the block bordered by Southeast Belmont and Taylor streets between Southeast 10th and 11th avenues and a portion of the block to the east when it meets a 1:30 p.m. Jan. 9, 1900 S.W. Fourth Ave., Room 2500A.
According to the agenda, the redevelopment includes private pedestrian pathways and plazas. Buildings will range up to seven stories in height.
Ankrom Moisan Architects is designing the redevelopment.
The property got its name when Killian Pacific brought in a squad of 50 goats to mow the vacant land, creating an instant focal point for the neighborhood.
Killian Pacific paid $3 million for the property, formerly home to the Monte Carlo restaurant, in March 2000 and owns it through a subsidiary, Belmont Investment LLC.
The caretakers who purchased the goats earlier this fall have until the end of the year to remove them. They plan to move the herd to an undisclosed farm until a long-term home is secured that will allow the public to continue to interact with the animals.
Follow the goats on Twitter: @thebelmontgoats.
Comments
If you are commenting using a Facebook account, your profile information may be displayed with your comment depending on your privacy settings. By leaving the 'Post to Facebook' box selected, your comment will be published to your Facebook profile in addition to the space below.