Raven & Rose clears self-imposed eco hurdles (Photos)
By Andy Giegerich
Digital Managing Editor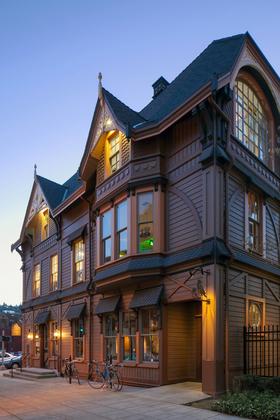 The Raven & Rose restaurant opened a year ago to some fanfare, mainly because its operators set up shop in a building that had moved before being returned to its original Broadway location. It turns out that Raven & Rose is also a sustainable eatery in every way. Click through for more info on how owner Lisa Mygrant goes about operating responsibly.
They say the first-year mark is always the toughest for a restaurant to reach. Especially if that restaurant operates under tight, self-imposed rules.
That's where Raven & Rose is today, one year after opening in the Ladd Carriage House, which, after a temporary relocation, again sits on Southwest Broadway near Portland State University. Owner Lisa Mygrant decreed tough standards regarding sourcing of materials, plumbing, food connections and even cleaning materials before opening the spot a year ago.
The result, from a diner's experience, is a striking but comfortable spot replete with tables made from Viridian's reclaimed wood, restored 130-year-old beams and an upstairs bar, in what was the Ladd house's former hayloft, that screams sustainability.
The structure itself is a model of reuse. It was set for demolition last decade before being moved — to make way for the construction of other buildings — before returning to its Broadway locale. Once there, the last remaining building from the Ladd Estate received a restoration by Paul Falsetto and Carleton Hart Architecture.
Mygrant, who grew up in Oakland, Calif., made several requests in restoring the building (it eventually achieved LEED Gold certification). Most materials come from within 300 miles of Portland. No chemicals are used in the kitchen. The wood oven — made from a fireplace crafted from the original building's chimney — features a gas jet that heats the oven before the wood is added. That, of course, saves wood.
"My house growing up backed up to a park in Oakland, and I've always had horses and gardens," said Mygrant. "It always makes me sad" when materials are simply discarded.
Click through on the photo above for a closer look at the Raven & Rose as it marks its first year of operating sustainably.
Comments
If you are commenting using a Facebook account, your profile information may be displayed with your comment depending on your privacy settings. By leaving the 'Post to Facebook' box selected, your comment will be published to your Facebook profile in addition to the space below.