St. Cupcake's Curl to focus on Quin's confections
By Andy Giegerich
Digital Managing Editor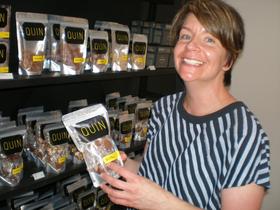 Quin owner Jami Curl will shutter her two St. Cupcake outlets to concentrate on her candy making prowess.
Here's a bit of bittersweet news.
Willamette Week is reporting that St. Cupcake will close its Southwest Morrison Street location and convert its Southeast Belmont Street outlet into a full-on Quin store. Quin's owner Jami Curl, as SBO reported this summer, started Quin as a means toward becoming the region's most prominent locally sourced candy maker and supplier.
Quin's Belmont spot will still serve St. Cupcake's cupcakes, according to WW.
Curl opened Quin July 1 in the new Union Way pedestrian mall, across from Powell's. The spot will remain open.
No word on what'll happen to the awesome bike rack in front of the westside's storefront.
Comments
If you are commenting using a Facebook account, your profile information may be displayed with your comment depending on your privacy settings. By leaving the 'Post to Facebook' box selected, your comment will be published to your Facebook profile in addition to the space below.