The new age of nuclear
By Andy Giegerich
Digital Managing Editor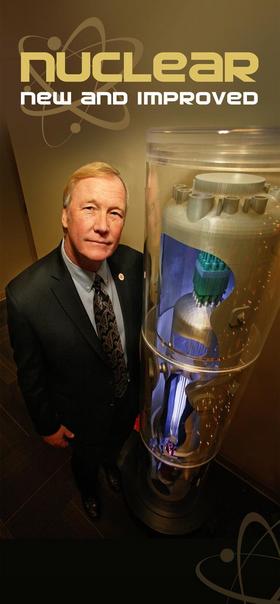 We're making this week's cover story, on NuScale's coming effect on the energy industry, available to all SBO readers. NuScale expects to hire hundreds after landing $226 million in matching Energy Department grants.
Just weeks after a March 2011 earthquake and subsequent tsunami caused the Fukushima nuclear plant to melt down, John Hopkins paid a visit to Japan.
Hopkins, representing the Fluor Corp. engineering giant that was considering investing in Portland-based NuScale Power, wanted to gauge how NuScale's small module nuclear reactor design would perform during a similar calamitous event.
Hopkins returned to the U.S. sold on NuScale's technology. He particularly embraced the company's safety precautions.
---
Editor's note: This article generally requires a subscription to read in its entirety. If you arrived here from the "unlocked" link on one of our social media channels or through the SBO email, please consider becoming a subscriber to regularly access our in-depth weekly edition stories like this one.
---
Most reactors require electricity to shut down and cannot do so if the power goes out. NuScale's modules, thanks to gravity and a convection system, shut down automatically in the event of a power failure. It also cools the reactor without the use of pumps, a common fail point in traditional reactor designs.
"It was clear that if this had been a NuScale reactor, (Fukushima's meltdown) wouldn't have happened," said Hopkins, who became NuScale's CEO 21 months later, after Irving, Texas-based Fluor became NuScale's majority owner.
Hopkins' faith paid off last week when the U.S. Department of Energy announced NuScale will receive up to $226 million in a five-year matching grant to develop and commercialize its small modular reactor technology by 2025. NuScale beat out as many as eight other companies for the award, including industrial giant Westinghouse Electric Co.
Comments
If you are commenting using a Facebook account, your profile information may be displayed with your comment depending on your privacy settings. By leaving the 'Post to Facebook' box selected, your comment will be published to your Facebook profile in addition to the space below.