TriMet: New Max line getting on (eco)track
By Andy Giegerich
Digital Managing Editor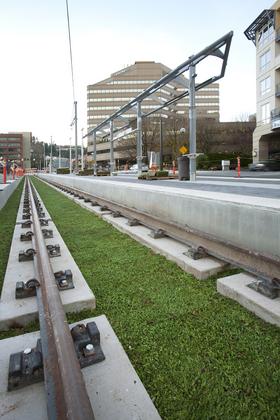 Irrigation and sedum mats are installed in the Eco-Track system at the Lincoln St/SW 3rd Ave station for TriMet's Portland Milwaukie Light Rail Project.
As completion of the Portland-Milwaukie Light Rail line hits the 70 percent mark, TriMet officials want future riders to take note of what they're calling an "eco-track" at one of the project's new stations.
The vegetated trackway, which aims to reduce stormwater runoff, is among the first such efforts in the U.S. It will adorn a station at Southwest Lincoln Street and Third Avenue near the Portland State University campus.
The installation "will provide a colorful carpet of low-growing plants along 200 feet of light rail line," according to the transit agency. The technique is common in Europe and consists of one-inch thick mats that contain various species of sedum, which are a hardy low-maintenance vegatation.
Stacy and Witbeck Inc. installed the track last month.
The 7.3-mile project is set to open Sept. 12, 2015. It will essentially link downtown Portland with North Clackamas County via light rail.
Comments
If you are commenting using a Facebook account, your profile information may be displayed with your comment depending on your privacy settings. By leaving the 'Post to Facebook' box selected, your comment will be published to your Facebook profile in addition to the space below.