Vestas' Colorado wind turbine factories benefit from looming tax-break deadline
By Cathy Proctor, Denver Business Journal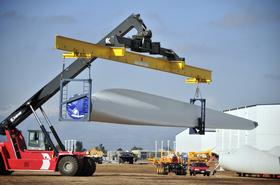 Photo courtesy of Vestas Wind Systems
A wind turbine blade at the Windsor blade factory in Colorado operated by Vestas Wind Systems.
A rush by wind farm developers to beat an end-of-the-year deadline to qualify for a federal renewable energy tax credit is translating into a crush of orders for wind turbines made by Vestas Wind Systems, which has four factories in Colorado.
Vestas on Friday reported it had locked in a firm order for 110 turbines, capable of generating 220 megawatts of electricity, from EDF Renewable Energy for two wind-energy projects in Texas. EDF is the North American renewable energy arm of French power company Electricite de France SA.
The order is part of a larger "master-supply agreement" between Danish manufacturer Vestas and EDF for 1,174 megawatt's worth of new turbines, which if built could collectively meet the needs of about 410,900 homes — or a community the size of Denver and Aurora.
Vestas said it expects to deliver the turbines, the V100-2.0 megawatt model, to EDF's Texas wind farms in the second half of 2014.
The EDF order announced Friday is the second one Vestas unveiled this week. The company announced Wednesday it had received an order from Enel Green Power North America Inc.
To date in 2013, Vestas has announced "firm" orders for 1,420 megawatts worth of turbines in the United States and Canada, enough to meet the needs of a community of nearly 500,000 homes — or all of Denver, Aurora, Centennial, Greenwood Village, Englewood and Littleton combined. All but one of those orders was announced in the second half of the year.
The crush of orders is due to wind developers rushing to meet an end-of-the-year deadline to "start construction" on their project in order to qualify for the federal Wind Production Tax Credit (PTC). The credit is worth $23 for every megawatt of electricity the wind farm produces for the first 10 years of its existence.
Comments
If you are commenting using a Facebook account, your profile information may be displayed with your comment depending on your privacy settings. By leaving the 'Post to Facebook' box selected, your comment will be published to your Facebook profile in addition to the space below.