Vestas' year-end flurry brings high U.S./Canada sales marks
By Andy Giegerich
Digital Managing Editor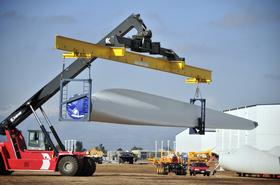 Photo courtesy of Vestas Wind Systems
A wind turbine blade at the Windsor blade factory in Colorado, operated by Vestas Wind Systems.
Another late-year order has helped Vestas post its second-best sales year ever for the United States and Canada sales regions.
Vestas reported Wednesday it received a 110 megawatt order for 55 V100-2.0 megawatt wind turbines for a U.S. project. Bloomberg reported that the turbines are for the Route 66 wind farm owned by First Wind Holdings Inc. in Texas.
The turbines are expected to be delivered during the second part of 2014.
"This project will provide more clean energy to the United States as well as more jobs for Vestas service technicians and factory workers," said Chris Brown, president of Vestas' sales and service division in the United States and Canada.
Those workers will likely be hired at three Colorado factories.
The company landed more than 1,700 megawatts worth of projects in the U.S. and Canada in 2013. The company set its regional standard in 2010.
Comments
If you are commenting using a Facebook account, your profile information may be displayed with your comment depending on your privacy settings. By leaving the 'Post to Facebook' box selected, your comment will be published to your Facebook profile in addition to the space below.