Bambu to work with OSU on honey bee matters
By Andy Giegerich
Digital Managing Editor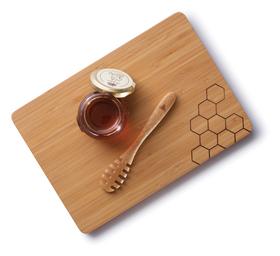 Bambu, which crafts products such as this honeycomb cutting board, will work with Oregon State University on bee-related issues.
A Portland-based renewable products company plans to back honey bee research through an agreement with Oregon State University.
Bambu will work with the school's Honey Bee Lab, which analyzes honey bee health and nutrition, examines pollination efficiency of honey bee colonies and works with the Oregon Master Beekeeper Program.
The lab is part of the Honey Bee Research and Extension program that examines honey bee health, nutrition, and pollination and provides services for commercial beekeepers and backyard beekeepers.
"The Honey Bee Research Lab is making important inroads to understanding the complexities of maintaining healthy honey bee colonies," said Jeff Delkin, Bambu's president and co-founder. "Honey bees are critical to healthy food systems. We're sponsoring the lab to support its ongoing work˜ a great example of dedicated people working to build healthy eco-systems that benefit us all."
Bambu recently launched several products in its Honey Bee line. The offerings include an organic bamboo honey dipper, a honeycomb bamboo cutting board and a set of "bee motif" coasters.
Bambu's products are "biobased-certified" by the U.S. Department of Agriculture.
Comments
If you are commenting using a Facebook account, your profile information may be displayed with your comment depending on your privacy settings. By leaving the 'Post to Facebook' box selected, your comment will be published to your Facebook profile in addition to the space below.