Blumenauer joins activists' power plant fray
By Andy Giegerich
Digital Managing Editor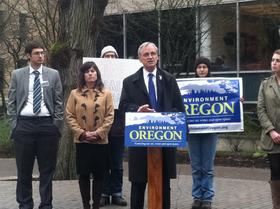 Rep. Earl Blumenauer (at the podium) stridently backs local efforts to ensure that any newly built power plants emit little carbon.
Protesters aiming to slash carbon pollution from power plants welcomed a Congressional leader to their fold on Wednesday.
Rep. Earl Blumenauer joined the group Environment Oregon as members called for enhanced carbon pollution regulations on new power plants. Environment Oregon's team traversed the state Wednesday asking activists to submit opinions during a 60-day public comment period on the proposed rules.
The regulations could limit or even eliminate the possibility that coal power plants could be built in the U.S.
Blumenauer pointed to recent weather trends as a harbinger of what releasing more carbon into the atmosphere could bring. Oregon's snowpack is about 30 percent to 40 percent of normal levels this season. The region could be in a for a long summer if more precipitation doesn't hit the area.
"Climate change is hitting people where they live," he said. "It's affected ski resorts, this summer, it could affect agricultural production, it's going to affect power availability through our hydro system. The insurance industry needs to make serious calculations about what the consequences will be there. There are very solid and practical implications that we need to be a little more alarmed about.?"Before we build any new power plants, we want to make sure we're doing all we can to minimize their harmful environmental impacts."
Blumenauer and fellow Rep. Suzanne Bonamici have ardently supported President Obama's climate action plan. The measures call for increased investment in renewable energy and energy efficiency.
Lawmakers could proposed more regulations on existing plants later this year.
Comments
If you are commenting using a Facebook account, your profile information may be displayed with your comment depending on your privacy settings. By leaving the 'Post to Facebook' box selected, your comment will be published to your Facebook profile in addition to the space below.