Climate Trust foresees ag programs, carbon tax and cleaner fuels in 2014
By Andy Giegerich
Digital Managing Editor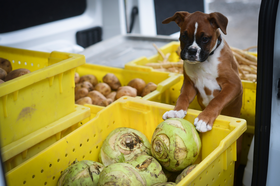 Climate Trust projects that the U.S. Agriculture Department won't let its land management efforts go to the dogs.
While many business world types were preparing for their holiday celebrations last month, the team at The Climate Trust was busy formulating its list of trends to watch in the coming year.
The group, a Portland-based outfit that seeks to reduce effects from climate change, offered its list of carbon market trends that industry leaders should track in the coming year.
Specifically, self-imposed carbon tax structures and a Low Carbon Fuel Standard should hit the radar in 2014, according to the group.
Here are some of the Climate Trust's 10 trends to watch.
Comments
If you are commenting using a Facebook account, your profile information may be displayed with your comment depending on your privacy settings. By leaving the 'Post to Facebook' box selected, your comment will be published to your Facebook profile in addition to the space below.