Council for Responsible Sport issues new certification standards
By Andy Giegerich
Digital Managing Editor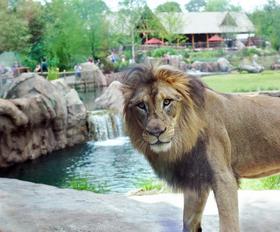 Courtesy Cincinnati Zoo & Botanical Garden
Officials from the Cincinnati Zoo & Botanical Garden, which hosts this Africa that features this lion named John, helped craft the Council for Responsible Sport's new guidelines.
A Portland group that certifies sporting events has released its newest standards.
The Council for Responsible Sport released its the updated certification guidelines on its new website.
"Version 4.1 of our certification standards have been two years in the making," said Keith Peters, the group's executive director, in a release. "As soon as we introduced version three of our certification standards in January 2012, we set out to improve upon them. We knew we had work to do to make sure our certification program is as relevant to a professional golf event like the AT&T Pebble Beach National Pro-Am as it is to Bike New York's TD Five Boro Bike Tour or the Cincinnati Zoo's Cheetah Run."
Peters said the group has certified more than 70 events over the past six years. It received feedback on its new standards from officials representing the 2012 U.S. Olympic Track & Field Trials, the 2012 ParalympicsGB Preparation Camp, the 2013 Division 1 NCAA Track & Field Championships and the 2013 Big O Roller Derby Tournament.
The nonprofit was formed in 2007. It has certified such events as the Waste Management Phoenix Open.
Comments
If you are commenting using a Facebook account, your profile information may be displayed with your comment depending on your privacy settings. By leaving the 'Post to Facebook' box selected, your comment will be published to your Facebook profile in addition to the space below.