Want to start a farm? Slow Money launches NW investment fund
By Mason Walker
New Media Manager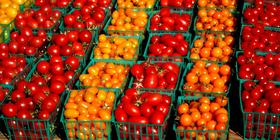 Matthew Robinson | cc-licensed http://flic.kr/p/5f9axc
Slow Money Northwest has created an investment fund to support promising food and farm businesses.
A new investment fund has opened to support food and farm businesses in the Northwest.
Slow Money Northwest, a regional chapter of agriculture investment nonprofit Slow Money Alliance, rounded up a mix of corporate and family foundations and individual investors to create the Cascadia Foodshed Funding Project. The group is aiming to make up to five investments between $25,000 and $250,000 by the end of 2014.
Investments are available for new and existing enterprises in Washington and Oregon. Applications for the first round are open through Feb. 28.
The fund has two goals: to accelerate promising food and farm businesses, and to test a funding model that brings a range of investors together.
"We're testing a new, collaborative financing model that brings together a range of investors that historically haven't worked together," said Tim Crosby, director of Slow Money Northwest.
To be eligible for investment, projects and businesses must:
Be located in or provide substantial benefit to Whatcom, King, or Pierce counties in Washington, eastern Washington or Multnomah County in Oregon.
Improve measures of health, social equity, family wage employment and rural community resilience.
The investors behind the Cascadia Foodshed Funding Project include the JP Morgan Chase Foundation, Whatcom Community Foundation, The Seattle Foundation, The Greater Tacoma Community Foundation, Empire Health Foundation, Meyer Memorial Trust, Ecotrust Natural Capital Fund, The Thread Fund and individual investors.
Comments
If you are commenting using a Facebook account, your profile information may be displayed with your comment depending on your privacy settings. By leaving the 'Post to Facebook' box selected, your comment will be published to your Facebook profile in addition to the space below.