Forklifts, electric motorcycles and NYC ambulances land Drive Oregon cash
By Mason Walker
New Media Manager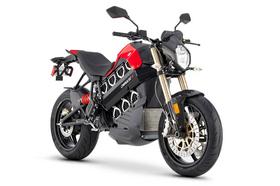 Southern Oregon's Brammo Inc., makers of high-performance electric motorcycles, was among the recipients of $85,000 in acceleration grants awarded by Drive Oregon.
Drive Oregon, the state-backed group tasked with accelerating Oregon's electric vehicle adoption, has awarded $85,000 in grants to three companies.
The latest round brings the three-year-old association's award total up to $400,000, a figure that it claims has been met by more than $4 million in additional funding.
"This was our most competitive grant round yet; our board reviewed seven proposals seeking $300,000. These three approved grants, totaling $85,000, are expected to leverage over $750,000 in matching funds immediately, while accelerating long-term job growth here in Oregon," said Drive Oregon Executive Director Jeff Allen in a statement.
The round of grants was awarded to three parties:
$40,000 for a partnership between Portland-based startup KersTech Vehicle Systems and Oregon forklift manufacturer NACCO Materials Handling Group to test a new electric motor in forklifts.
$25,000 to support a new product launch by electric-motorcycle maker Brammo Inc.
$20,000 for Portland-based Shorepower Technologies to design and build 10 electrification stations for New York City's ambulance fleet.
Applications for Drive Oregon's next round of grants are due by February 28. Drive Oregon is funded in part with Oregon State Lottery funds administered by Business Oregon.
Comments
If you are commenting using a Facebook account, your profile information may be displayed with your comment depending on your privacy settings. By leaving the 'Post to Facebook' box selected, your comment will be published to your Facebook profile in addition to the space below.