Key Alta supplier files for bankruptcy protection
By Andy Giegerich
Digital Managing Editor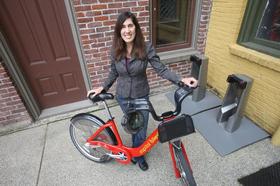 Mia Birk leads Portland's Alta Bike Share, which is looking to relocate its Portland office. A top company supplier is seeking bankruptcy protection in Canada.
A company that makes bikes and other equipment for Alta Bike Share has filed for bankruptcy protection.
PBSC Urban Solutions has debts of about $50 million in Canadian dollars, according to various reports.
The Canadian company designs and builds bikes for Alta and other bike-sharing systems.
A message on the voice mail system at Alta's Southeast Portland office revealed that the company is seeking a new space and that company representatives weren't available.
PBSC was spun off from the city of Montreal. The company will continue to operate in the short term, according to the New York Times. The paper reported that Bixi, which is the company's Canadian name, owes its suppliers about $9 million but that Montreal is giving the company $1.5 million so that operations can continue.
Alta's Mia Birk told SBO last summer the company is looking to land a local sponsor that would help the company launch its Portland operations.
Comments
If you are commenting using a Facebook account, your profile information may be displayed with your comment depending on your privacy settings. By leaving the 'Post to Facebook' box selected, your comment will be published to your Facebook profile in addition to the space below.