Kitzhaber: Let's solidify forests plan, build the CRC
By Andy Giegerich
Digital Managing Editor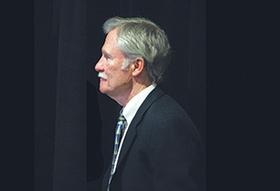 Oregon Gov. John Kitzhaber believes Washington officials will approve a version of the Columbia River Crossing when the matter hits the legislative table this month.
Oregon Gov. John Kitzhaber called on state business and political leaders to continue pushing for solid forestry policies and to continue supporting an Oregon-led version of a revamped Columbia River Crossing.
Kitzhaber, at a Portland Business Journal Power Breakfast, was interrupted at one point by an anti-fossil fuel protester. A group standing outside the Governor Hotel, the event's venue, that protested the shipment of tar sands megaloads through eastern Oregon said the man was likely connected to their group.
Kitzhaber, during a wide-ranging discussion that also addressed Oregon's health care reform issues and his embattled education "czar" Rudy Crew, picked up on themes presented during December's Oregon Business Summit.
"We still have our resource-based economy, but the world has changed dramatically," he said. "How do we change that? By building up a new food cluster ... we've spent more time in the last year on forestry issues. It's not really a complicated policy. There are (many places) where there's an intersection of social and environmental concerns.
"The thing that struck me is that we're trying to find solutions within a framework that was created decades ago and don't make sense."
Kitzhaber, who's seeking a fourth term — the third term was non-consecutive — in this year's primary, also noted that environmental issues must work in tandem with other ambitious state goals.
"We need to ensure that every Oregonian, regardless of income, will have an equal opportunity to reach their potential and leave kids economically and environmentally" in good shape, he said.
Comments
If you are commenting using a Facebook account, your profile information may be displayed with your comment depending on your privacy settings. By leaving the 'Post to Facebook' box selected, your comment will be published to your Facebook profile in addition to the space below.