Less than net-zero: Hood River Middle School makes the grade (Photos)
By Andy Giegerich
Digital Managing Editor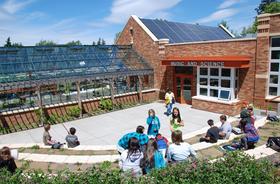 Michael Becker, Hood River Middle School's Food and Conservation instructor, helped push for a net-zero design for the school's new Music and Science Building. He'd originally examined whether the structure could become a"living building" before recognizing that the school district, which had passed a bond to help fund the structure, likely wouldn't back a self-contained sewage treatment plant. The new structure, which is a net-zero facility, does feature a 14,000-gallon tank that collects rainwater that's used to flush toilets. "I want to turn out a generation of kids who go to college thinking that operating sustainably is normal," Becker said. "At the end of the day, that means more than just going to the recycling bucket."
One of Oregon's first net-zero energy buildings has passed a key milestone as it nurtures a new generation of environmentally aware students.
The Hood River Middle School's Music and Science Building has marked its third year of creating more energy (about 1 percent more) than it uses. That's a critical figure in that the structure, in which instructor Michael Becker teaches several conservation-themed classes, is one of the longer-running net-zero buildings in the U.S.
---
Net-zero: Take a virtual tour of Hood River's super-efficient school
---
"There are many net-zero projects that opened up recently, but this has had an operational period that shows it's indeed net-zero," said Alec Holser, the Opsis Architecture ace who worked on the Hood River project.
The LEED Platinum structure, built to augment the 89-year-old middle school's main facility, also yielded a 101 percent reduction in carbon emissions over the music and science department's previous classrooms.
The Music and Science building features several placards explaining its water conservation methods and the complex heat pump network that stems from a pipeline under the nearby football field. A greenhouse helps students understand the link between horticulture and the environment. And Becker and his students even host operations at the Gorge Grown Farmers' Market, which operates at the middle school.
"The building is a teaching tool for sure," Becker said. "There are plexiglass windows in the walls that show how the walls are put together, there are windows in the pump room that show what's going on."
"The whole idea is to do this through design, to look at building functional systems that incorporate diversity over time and complexity. We've even created a new habitat here: Frogs have shown up in the two ponds we've built, and we now have two redwing blackbirds, which I've never seen before here. Critters now see us as a regular stop."
Click through the gallery above for more analysis from Becker and Opsis on other lessons from Hood River's net-zero middle school.
Comments
If you are commenting using a Facebook account, your profile information may be displayed with your comment depending on your privacy settings. By leaving the 'Post to Facebook' box selected, your comment will be published to your Facebook profile in addition to the space below.