Looking to tout your build and design work? Hit the BetterBricks nomination page
By Andy Giegerich
Digital Managing Editor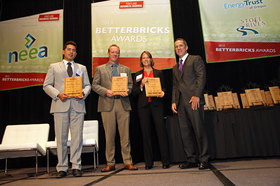 Cathy Cheney | Portland Business Journal
Osualdo "Ozzie" Gonzalez of CH2M Hill, Matthew Braun of Howard S. Wright and Nicole Isle of Glumac were among the 2013 BetterBricks winners.
It's never too early to start thinking about ways to honor your favorite 2013 sustainable construction, design and architectural projects.
That's why we at the SBO home office want you to begin compiling nominations for our BetterBricks awards, which take place Aug. 28.
---
A BetterBricks way of doing things: Take a gander at 2013's BetterBricks winners
---
Essentially, we're seeking standout individuals who are making a real impact in energy efficiency for the Northwest's commercial buildings. We judge these projects based on ways that planners, builders, designers, occupants and building occupants create and maintain smarter environments.
For instance, we give high marks for those who boost energy efficiency, bottom-line benefits and a reduced carbon footprint.
Click here to visit our BetterBricks nomination page and tout those efforts that made 2013 a stellar year in green building.
Comments
If you are commenting using a Facebook account, your profile information may be displayed with your comment depending on your privacy settings. By leaving the 'Post to Facebook' box selected, your comment will be published to your Facebook profile in addition to the space below.