NEEA's board bustles with newbies
By Andy Giegerich
Digital Managing Editor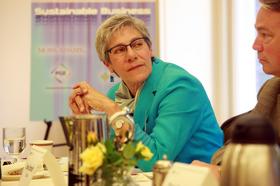 The Energy Trust of Oregon's Margie Harris will serve as the NEEA's 2013-14 board secretary.
A bevy of sustainability notables has landed leadership roles for the Northwest Energy Efficiency Alliance.
The group, a non-profit alliance of utilities and energy efficiency organizations, has named its 2013-14 Board of Directors. The incoming roster includes:
Jeff Bumgarner, director of demand side management for PacifiCorp.
John Chatburn, administrator for the Idaho Governor's Office of Energy Resources.
John Francisco, energy services manager for Inland Power.
Bob Jenks, executive director of the Citizens' Utility Board of Oregon.
Michael D. Jones, power supply and environmental affairs officer, for Seattle City Light.
Pat McGary, director of energy resources for Clark Public Utilities.
Don McMaster, general manager of the Cowlitz County Public Utility District.
Chris Robinson, power management manager for Tacoma Power.
Jim West will serve as the board's chair. West is the assistant general manager of customer and energy services for Snohomish Public Utility District.
Deb Young of NorthWestern Energy is the board's vice chair while Avista Utilities' Bruce Folsom is the treasurer. Margie Harris of the Energy Trust of Oregon is the board's secretary.
Comments
If you are commenting using a Facebook account, your profile information may be displayed with your comment depending on your privacy settings. By leaving the 'Post to Facebook' box selected, your comment will be published to your Facebook profile in addition to the space below.