Urban Gleaners set for 2014 food-supplying surge
By Andy Giegerich
Digital Managing Editor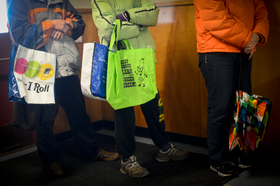 On a typical day, Urban Gleaners will collect food — or "glean" it from sources that might otherwise discard it — and deliver it to spots where it will be collected or consumed. Click through the gallery for a look at what Urban Gleaners does on a typical day.
The Portland group that "gleans" and redistributes food that might otherwise go to waste has big plans for 2014.
For starters, Urban Gleaners is looking to move from its current 1,000-square-foot office and warehouse space, in Portland's Old Town, to a larger spot. The group is trying to raise capital for the move and buildout of a new location.
---
Food for thought: Take a look at an average day at Urban Gleaners
---
Urban Gleaners also hopes to expand its Mobile Market program, which brings fresh foods to food deserts in East Multnomah County. Families who hit the prearranged spots where Urban Gleaners sends its vans can procure food items for free.
Urban Gleaners hopes to collect 500,000 pounds of food in 2014. Doing so would put the group over the 3-million-pound mark since Urban Gleaners launched in 2006, said program coordinator Ava Mikolavich.
The group hopes to quell hunger by collecting "edible, surplus food" that might otherwise be tossed. Urban Gleaners distributes the items to agencies that feed the hungry as well as directly to families.
Among other aims, Urban Gleaners hopes to close a huge gap. Some 25 percent of all the calories connected to producing food are lost or wasted between the farm and eaters' forks.
Urban Gleaners also runs a Food to Schools program that brings items to area learning institutions.
Click through on the picture above to learn more about Food to Schools and other Urban Gleaners offerings.
Comments
If you are commenting using a Facebook account, your profile information may be displayed with your comment depending on your privacy settings. By leaving the 'Post to Facebook' box selected, your comment will be published to your Facebook profile in addition to the space below.