World cities looking to Portland for 'Green Street' ideas (Photos)
By Mason Walker
New Media Manager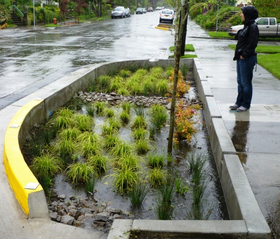 Courtesy of Portland Bureau of Environmental Services
Bioswales have many benefits, including a reduction in strain on a city's municipal sewer system. Less water in sewers generally leads to cleaner rivers and waterways. Click through the gallery for more about Portland's bioswales.
If you're reading this in Portland, or Gresham for that matter, you're likely only a few blocks away from a cutting-edge piece of stormwater management technology. Exciting, we know.
Known commonly as bioswales, these curb plantings are a powerful tool for keeping the Willamette River and other waterways clean during large rainstorms.
---
To the streets! Take a tour of some of Portland's 1,350 bioswales
---
OK, maybe they aren't exactly cutting-edge, but Portland's accelerated use of bioswales has caught international attention from other municipalities looking to keep rainwater out of over-burdened sewer systems and rivers. Representatives from Kansas City, Philadelphia, Washington, D.C., Toronto and Copenhagen have reached out to learn more about Portland's system of runoff management.
To date, Portland has installed 1,350 bioswales (click through the gallery above to see a map of their locations), managing as much as 125 million gallons of oily street water that would otherwise wind up, unfiltered, in the sewer system.
The city's Bureau of Environmental Services is now turning to local businesses to help manage these features through a sort of "adopt-a-bioswale" program called Green Street Stewards. It currently counts 16 business partners that have volunteered to remove waste, weed and generally keep up their local bioswales.
"(The program helps) stretch our resources, and is an opportunity to engage the community in helping keep the river clean," said Emily Hauth, the program's coordinator with the city of Portland.
S.E. Portland outdoor store Next Adventure is among the first Green Street Steward businesses to watch over a bioswale.
Comments
If you are commenting using a Facebook account, your profile information may be displayed with your comment depending on your privacy settings. By leaving the 'Post to Facebook' box selected, your comment will be published to your Facebook profile in addition to the space below.