40 Under 40: Bolted Services' (and Feast Portland's) Mike Thelin
By Andy Giegerich
Digital Managing Editor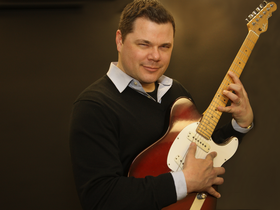 Cathy Cheney | Portland Business Journal
Should Mike Thelin of Bolted Services ever need to have a "last meal," he'll choose from a bevy of great local restaurants.
Our 40 Under 40 event is traditionally one of the Portland Business Journal's more lively gatherings.
That's because we try to choose honorees who are energetic, full of ideas and creative. Our 2014 event takes place at The Nines Hotel in downtown Portland. To register, click here.
At our luncheon, we'll be giving out our printed special section that fetes 2014's 40 Under 40 class. A lot of work goes into producing the section, and honorees generally hold onto it as a testament to their earlier successes.
---
40 Under 40: Meet the full list of 2014's honorees
---
As we build up to the event, we'll be featuring this year's honorees on the PBJ website. Be sure to visit our site frequently for updates on this year's class. Our theme this year is "Top 40," which explains why most of the pictures you'll see contain instruments.
Mike Thelin typically shines in the early fall, when the excellent Feast Portland gathering, which he co-created, takes place. This year, the principal of Bolted Services should enjoy his February thanks to his 40 Under 40 designation.
Thelin's group creates and revives large national-scale food festivals, food events, food industry conferences and food-related marketing initiatives.
"Sometimes that means starting from scratch as we did with Feast Portland, other times that means partnering with a failing organization to turn it around and make it profitable again, as we did with the largest food festival in Texas," he said.
Thelin has apparently always had a thing for food. His first job was as a grocery bagger in high school. He relaxes by hiking and by engaging in yoga.
Comments
If you are commenting using a Facebook account, your profile information may be displayed with your comment depending on your privacy settings. By leaving the 'Post to Facebook' box selected, your comment will be published to your Facebook profile in addition to the space below.