Blazers plant seeds for better Moda exterior
By Andy Giegerich
Digital Managing Editor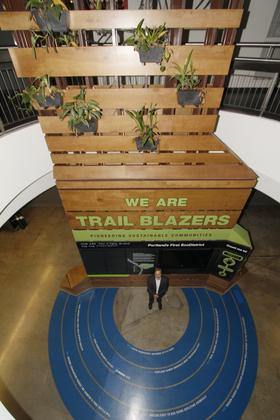 The "Living Wall" inside the Moda Center's concourse educates Blazers fans about the importance of conserving energy. The team's principles will be applied to the building's outside as well thanks to work expected to begin this year.
When the Portland Trail Blazers spruce up the Moda Center's exterior this year, fans can expect a familiar feel.
"The landscaping was there when the building opened in 1995," said Justin Zeulner, the team's sustainability director. "We're getting rid of the 'Kansas City landscaping. What we're doing fits better with the character of Portland."
That is, the Blazers will dot the Moda Center's walkways and terrace areas with native grasses and adaptive drought-resistant plants. It will work with such organizations as Greenworks http://greenworkspc.com/ to forge an integrative exterior approach.
"It'll liven up the campus through the lens of landscaping," said Zeulner, whose team announced several upcoming strategies earlier this week.
---
---
The new Moda Center drought-resistant plantings will reduce the team's landscaping water usage by 20 percent to 30 percent. The strategies also align with those set forth by the Lloyd EcoDistrict, in which the Moda Center sits.
Zeulner said the work represents the first phase of sustainable projects around the arena. The second phase will address the full Rose Quarter campus, with changes potentially coming to the area's stormwater systems. The Blazers are working with the Portland Development Commission and TriMet to formulate sustainability strategies for the Moda Center and Memorial Coliseum environs.
The moves will augment three major capital projects around the Moda Center that the Blazers will unveil next month. Blazers President Chris McGowan outlined the efforts earlier this week.
Comments
If you are commenting using a Facebook account, your profile information may be displayed with your comment depending on your privacy settings. By leaving the 'Post to Facebook' box selected, your comment will be published to your Facebook profile in addition to the space below.