How to empty the garbage … within your mind
By Andy Giegerich
Digital Managing Editor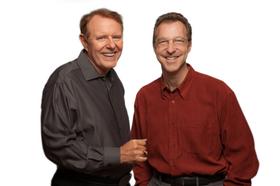 Norm LeMay (left) and Steven Kaufman have written "The Garbageman's Guide to Life," which serves as a guide to waste management for the mind.
Norm LeMay says the one thing that every garbage collector knows is that, to the person getting rid of it, garbage has no value.
Why, he and waste software developer Steven Kaufman thought, shouldn't the same philosophy apply to one's mental state?
"Once you know something has no value, you can figure out what does have value and what you can bring back in," said LeMay, who with Kaufman have co-authored "The Garbageman's Guide to Life: How to Get Out of the Dumps." The insightful book, published by Morgan James, equates the elimination of physical waste with emotional and even intellectual baggage.
Think of it as waste management for the mind.
"If you're not regularly taking out the trash, it adds up," LeMay explains. "The same thing works in your mind. You need to cleanse the stuff that has no value because it can lead to drama issues and other things."
The duo formulated their theories after excelling in the physical waste world. LeMay oversees LeMay Inc., a $300 million family of collection and recycling services through Washington state. Kaufman has developed software that provides automated route tracking systems for the waste industry.
The self-help book includes chapters with headings such as "Leave It in the Landfill" and "Get Away From the Toxic Waste."
It also delves into hoarding, which, in this case, means letting go of the mental trash that can impede more productive thoughts.
LeMay said the writers' theories actually stem from the word "garbage" itself.
"Even the word 'garbage,' there's a range of emotion assigned to it," said LeMay. "It's items you don't want ... It's about figuring out the garbage in your life. The faster you can get rid of a self-destructive thought or activity, the better off you're going to be."
"You start by paying attention," added Kaufman. "That begins the inventory count. It begins to spread and soon, you might find a lot of (emotional and mental) garbage."
Comments
If you are commenting using a Facebook account, your profile information may be displayed with your comment depending on your privacy settings. By leaving the 'Post to Facebook' box selected, your comment will be published to your Facebook profile in addition to the space below.