Vestas quarterly results in the black for first time in 2 years
By Cathy Proctor
Reporter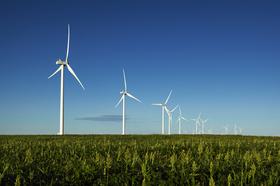 Photo by Renewable Energy Systems Americas Inc. (RES Americas)
Vestas Wind Systems turbines, built in Colorado, spin at the Cedar Point wind farm in eastern Colorado near Limon. The wind farm was developed and is operated by RES Americas of Broomfield.
Vestas Wind Systems, the Danish wind turbine manufacturer with four big manufacturing plants in Colorado, has posted its first quarterly profit since 2011.
The company, based in Denmark, issued its fourth quarter and 2013 results on Monday, ahead of a conference call with analysts scheduled for Tuesday.
The company in 2011 launched a two-year turnaround program that included cutting employees, selling manufacturing plants, and focusing on a leaner operation around the world. In Colorado, that translated into hundreds of jobs cut at its plants during 2012.
But things have turned around for the company, which posted a profit of $294 million for the fourth quarter.
"Vestas has delivered on the main focus areas over the turnaround period," the company said in a statement, citing lower annual fixed costs, net investments, and working capital.
The fourth quarter results are a big swing from a net loss of $835 million during the fourth quarter 2012. The company attributed the fourth-quarter results to more deliveries to customers, better margins on those deliveries and an improved net working capital.
For all of 2013, Vestas posted a loss of nearly $49 million, down from a loss of $964 million in 2012, the company reported. The company credited the improved results to lower costs, better working capital and "low" investment requirements.
But revenues for the year also were down.
Vestas said its global revenues were nearly $8.3 billion, down 16 percent from $9.7 billion the company posted in 2012. Vestas said the lower revenues were driven by the fall-off in the U.S. wind market, which was the company's biggest market in 2012.
Comments
If you are commenting using a Facebook account, your profile information may be displayed with your comment depending on your privacy settings. By leaving the 'Post to Facebook' box selected, your comment will be published to your Facebook profile in addition to the space below.