Environmental litigation continues to affect U.S. energy policy: Oregon isn't spared
By Christine Jochim Boote and Barry Hartman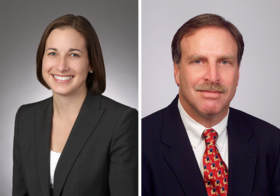 Christine Jochim Boote and Barry Hartman are attorneys with K&L Gates LLP's Washington, D.C. office.
For the past several years the United States, specifically Oregon, has embarked on an aggressive effort to address its energy future.
National security, climate change, sustainability, and economics have caused repeated shifts in focus and priorities among coal, natural gas, oil, wind solar, nuclear power, to name a few. A variety of factors alter which of these alternatives are prioritized, or perceived to be a priority by investors and policymakers at any given point in time.
Lawsuits that challenge or promote energy policy choices or specific projects impact both the timing and development of these alternatives.
The United States is unique because many legal challenges to energy policies or projects are brought by non-governmental organizations rather than government entities. While it's not a new phenomenon, the U.S. seems to have entered a "new generation" of energy development, and many groups are strategically using the judicial process as a means of changing U.S. energy policy through litigation.
Proponents of various energy alternatives are also using the judicial system to create pathways supportive of those alternatives. There are many examples of this phenomenon and how it may continue to impact energy development throughout the nation.
For instance, the discovery of vast reserves of gas in shale, and significant developments making its extraction through hydraulic fracturing more commercially viable than ever, places this resource near the top of everyone's list as an inexpensive, domestically available energy resources.
On the extraction side, lawsuits have been brought by opponents seeking greater environmental review of proposals to extract gas using hydraulic fracturing. Projects involving the export of liquefied natural gas have also faced challenges due to the location of liquefaction facilities and pipelines, for example, the case surrounding Oregon Pipeline Co. LLC v. Clatsop County.
Comments
If you are commenting using a Facebook account, your profile information may be displayed with your comment depending on your privacy settings. By leaving the 'Post to Facebook' box selected, your comment will be published to your Facebook profile in addition to the space below.