Sustainable Alpha: Jack Leslie and Luan Steinhilber's Touchstone plan
By Jack Leslie and Luan Steinhilber, Miller/Howard Investments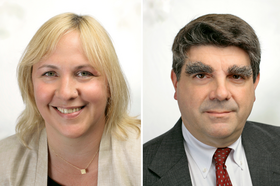 Luan Steinhilber and Jack Leslie are investment pros at Miller Howard Investments.
Sustainable Alpha features shared conversations with the best minds, portfolio managers and industry leaders working to maximize returns while prioritizing the environment, social and governance factors — what's become short-handed in the industry as ESG. Sustainable Alpha highlights portfolio approaches and investment trends against the backdrop of broader themes such as resource constraints, policy changes and demographic shifts — all while shedding light on how ESG can impact your investments.
Sustainable Alpha conversations are led by John Wrenn, Senior VP, Investments for UBS. The Wrenn Ferguson Group has a combined experience of 200 years managing over 1.6 billion in assets, offering customized wealth management strategies for individuals, endowments and foundations. View the rest of his conversations with leaders in the sustainable investment community.
---
In this edition, Wrenn checks in with Jack Leslie and Luan Steinhilber with Miller Howard Investments. The duo manages the Touchstone Premium Yield Equity Fund for Miller Howard.
---
John Wrenn: How long have you been factoring a company's environmental, social, and governance (ESG) policies into your financial analysis—and why do you go the extra step of looking at ESG factors?
Jack Leslie and Luan Steinhilber: For over two decades, Miller/Howard Investments has combined rigorous financial analysis with research into companies' environmental, social, and governance (ESG) policies and practices. We believe this process adds value for our investors. In fact, studies show that firms embracing environmental and social ethics often perform better than their industry peers.
Comments
If you are commenting using a Facebook account, your profile information may be displayed with your comment depending on your privacy settings. By leaving the 'Post to Facebook' box selected, your comment will be published to your Facebook profile in addition to the space below.