Why the BTU Act is good for Oregon
By Bruce Daucsavage and Dylan Kruse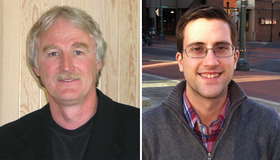 Bruce Daucsavage is president of Ochoco Lumber Company. Dylan Kruse is a program manager for Sustainable Northwest.
The Senate Finance Committee — which is taking the lead on crafting a comprehensive tax reform package — has announced a July 26 deadline for Senators to make requests of the committee for preferred items to be included in the package.
Leadership has indicated that special attention will be paid to requests that enjoy bipartisan support. Take the Biomass Thermal Utilization Act of 2013 (BTU Act). This bill is sponsored by an Independent (Sen. Angus King (I-ME), a Democrat (Sen. Jeanne Shaheen (D-NH) and a Republican (Senator Susan Collins (R-ME). Other senators have expressed support for the legislation but have not yet agreed to cosponsor.
Getting the provisions of S. 1007 into the tax reform bill will allow biomass thermal energy systems to compete on a level playing field with other renewable energy technologies. Right now, geothermal, wind, solar and other renewables enjoy federal residential and commercial investment tax credits. Biomass thermal systems do not. This critical legislation would provide parity in the tax code that Oregon biomass systems desperately need to compete.
Senate Finance Committee Leadership have indicated that they are pursuing a "blank slate" approach to tax reform—in other words operating from an assumption that all special tax provisions are out unless there is clear evidence that they: (1) help grow the economy, (2) make the tax code fairer, or (3) effectively promote other important policy objectives. We believe S. 1007 meets all three of these criteria.
That's why we've written Oregon Sens. Ron Wyden and Jeff Merkley to let them know that the BTU Act is good for Oregon.
Comments
If you are commenting using a Facebook account, your profile information may be displayed with your comment depending on your privacy settings. By leaving the 'Post to Facebook' box selected, your comment will be published to your Facebook profile in addition to the space below.