In the Trenches: How Micro-Pak's Sal Cesario and Jon Blumenauer break the mold
By Colleen Cimini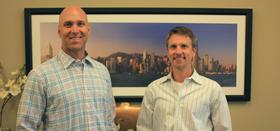 Sal Cesario (left) and Jon Blumenauer of Micro-Pak Ltd.
When Sal Cesario was recruited in 2010 to open Micro-Pak's North American headquarters in Oregon, he asked founder and CEO Martin Berman where sustainability falls on his list of priorities.
Berman's response: "It's high on the list, but the plan to execute is up to you."
That was the right answer for Cesario, now the global sales and marketing director for Micro-Pak, which specializes in mold prevention systems. He felt that the company's proprietary technologies, which prevent mold from developing during transportation of consumer products that are manufactured in Asia and shipped to Western markets, already offered inherent sustainability benefits.
During storage and transit, mold can destroy consumer products like shoes, apparel and furniture. Micro-Pak's packaging inserts can prevent mold more effectively than the silica gel packets that were once ubiquitous in consumer packaged goods. Micro-Pak is also environmentally safer than silica gel.
But Cesario felt that the company's sustainability platform could be leveraged further.
One of his first moves was to bring in sustainability expert Jon Blumenauer to analyze the environmental footprint of Micro-Pak products.
"We knew we had a big advantage over silica gel in product performance and safety, but this study showed a strong environmental advantage as well," Cesario said.
Specifically, Micro-Pak products are manufactured much more efficiently, with significantly lower resource use. Additionally, they are considerably lighter than silica gel counterparts, which reduces fuel use and carbon emissions from transportation. When the weight difference is applied to billions of intercontinental shipments, it adds up.
Comments
If you are commenting using a Facebook account, your profile information may be displayed with your comment depending on your privacy settings. By leaving the 'Post to Facebook' box selected, your comment will be published to your Facebook profile in addition to the space below.