EcoChallenge 2013: Ecova's 250 employees walk the talk
By Hester Yorgey, Ecova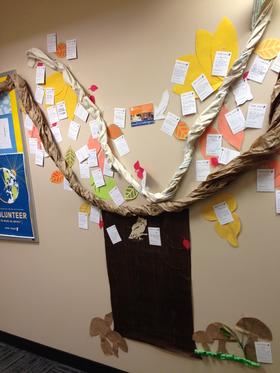 Ecova employees put up this tree decoration to tout their efforts during EcoChallenge 2013. Writer Hester Yorgey is the company's manager of corporate sustainability and employee value.
Ecova is a total energy and sustainability management company, offering clients a full portfolio of resource consumption reporting and efficiency consulting services.
So it stands to reason that we would want to "walk our talk" when it comes to sustainability and learn from our own experiences in the process.
Sustainability is all about change. It's about thinking more responsibly and more long-term about the big and small choices we make every day that add up to a large impact on our world. And we all know change can be hard, for organizations and individuals alike.
That's why we signed up for Northwest Earth Institute's EcoChallenge.
This event gave our team at Ecova the chance to think more proactively about our choices and to take steps together towards reducing our environmental impact.
Here's how the EcoChallenge works: Every October, NW Earth Institute challenges businesses and community members to choose one habit to change for two weeks, to make their life (or business) a little more sustainable.
While a number of individual employees have taken on the EcoChallenge in past years, this is the first year that we, as a company, have officially signed up for the challenge.
NW Earth Institute's EcoChallenge has provided us with a unique opportunity to engage the 1,500 employees working with Ecova in locations across the country. I'm proud to report that nearly 250 Ecova employees are participating. They have posted their EcoChallenge goals around the office to help inspire their colleagues and start conversations about taking action for the planet.
We're also spotlighting some of our employees to share their success stories and get people talking! Here are a few examples:
Comments
If you are commenting using a Facebook account, your profile information may be displayed with your comment depending on your privacy settings. By leaving the 'Post to Facebook' box selected, your comment will be published to your Facebook profile in addition to the space below.