EcoChallenge 2013: Hopworks hops to it
By Andy Giegerich
Digital Managing Editor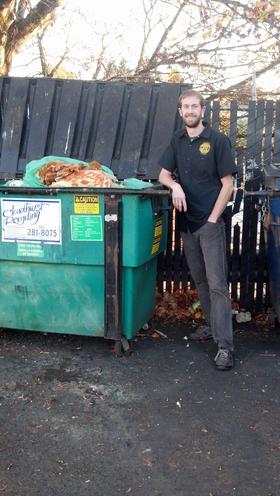 Nate Young is Hopworks Urban Brewery's director of sustainability and business analysis.
Editor's note: In conjunction with the Northwest Earth Institute's EcoChallenge, we invited participating companies to discuss their experience in the event, which drives businesses to seek more sustainable solutions. The event ends today. Here's one of those reports from Hopworks' sustainability star Nate Young.
Hopworks Urban Brewery is Portland's first eco-brewpub offering world-class beer and fresh food in a relaxed, communal and environmentally friendly atmosphere.
From the very beginning, Hopworks has put sustainability at the heart of our business. Our mission is to "produce world-class beer and food as sustainably as possible." We incorporate a range of sustainable practices in our operations and make every effort to protect "our" future with a thoughtful alternative. Hopworks is renewably powered and "cradle to gate" carbon neutral.
Every decision we make must be good for the environment and the people in our surrounding community, while keeping Hopworks and our suppliers in business for the long haul. Whether it is discovering a new supplier for local organic hops, or offering water to our guests only upon request—we continue to push ourselves to reduce our impact.
So when we learned about the Northwest Earth Institute's EcoChallenge, we saw an opportunity to take another step towards shrinking our environmental footprint.
For two weeks between Oct. 15 and Oct. 30, we joined NW Earth Institute and more than 2,300 people from across the country to kick-start change. Our goal: focus on an improvement we'd like to make at Hopworks so by the end of the two-week challenge, we have muscle memory and a new habit that sticks.
Comments
If you are commenting using a Facebook account, your profile information may be displayed with your comment depending on your privacy settings. By leaving the 'Post to Facebook' box selected, your comment will be published to your Facebook profile in addition to the space below.