Skanska's Steve Clem on why the Pacific Coast Climate Plan matters
By Steve Clem, Skanska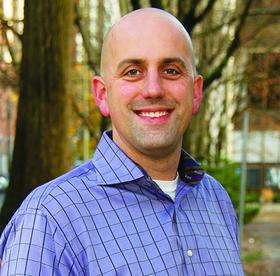 Steve Clem is Skanska's vice president of pre-construction in Oregon.
For two very good reasons, yesterday's unveiling of the Pacific Coast Climate and Energy Action Plan is outstanding news.
The plan calls for western states and British Columbia to account for the cost of carbon emissions and establish low-carbon fuel standards, among other important actions.
This partnership is a much-needed step toward protecting our region from the effects of climate change and resource limits imposed by global population growth. And it's a way for Oregon to set the table on climate issues—not just get a seat at it.
Oregon Gov. John Kitzhaber joined other West Coast leaders in San Francisco to sign the Pacific Coast Climate and Energy Action Plan.
As a world-leading project development and construction group, Skanska deals with risk factors all the time, and a changing climate is a significant business risk. The more tools we have to address and mitigate the risks we know are coming, the more equipped we'll all be.
By making smart investments now based on sound research, our leaders will not only help fulfill the promise of passing on a vibrant, healthy world to our children but also create a robust and resilient clean economy going forward.
Putting a price on carbon pollution and encouraging cleaner fuels are important tools for reducing risk. As any business can tell you, risk and uncertainty are our enemies to our bottom line. The one commonality for all businesses is that unmitigated climate change will increase costs for all of us.
More extreme and uncertain weather will increase costs to our supply chains. Hotter temperatures will worsen air quality, increasing health risks to our workers, and potentially increasing health care costs. Right now, these impacts are also happening beyond our borders and affect society as a whole.
Comments
If you are commenting using a Facebook account, your profile information may be displayed with your comment depending on your privacy settings. By leaving the 'Post to Facebook' box selected, your comment will be published to your Facebook profile in addition to the space below.