The NW Earth Institute's EcoChallenge: Energizing change
By Kimberley Angove and Kristen Connor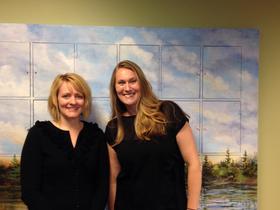 Kristen Connor and Kimberley Angove are co-chairs of Capital Pacific Bank's Green Team.
Editor's note: In conjunction with the Northwest Earth Institute's EcoChallenge, we invited participating companies to discuss their experience in the event, which drives businesses to seek more sustainable solutions. The event starts Oct. 15. Here's one of those reports from Capital Pacific's "Green Team" leaders.
At Capital Pacific Bank, green is a way of doing business.
We've grown beyond recycling and energy efficiency, creating a corporate culture of sustainability that has developed from the ground up. What started as a small group interested in launching a Green Team has grown into a corporate-wide philosophy of community involvement, local economic success and conserving environmental resources.
This commitment is a key driver in everything we do. We often hear from our customers that banking with us is a high priority because of our demonstrated commitment to our planet. Every day, we see how these shared values allow us to engage with our customers on a deeper level.
When we first learned about the Northwest Earth Institute's EcoChallenge, we saw the perfect opportunity to challenge our employees to take action, while making a difference for the planet. The results were so successful, that we're now getting ready to participate in our second EcoChallenge.
Here's how the NW Earth Institute EcoChallenge works.
First, you set one goal to reduce your environmental impact. There are five categories to select from: water, energy, food, waste or transportation. The idea is to pick a stretch goal, something that takes you outside your comfort zone. Then, for two weeks, you take action toward that goal.
Comments
If you are commenting using a Facebook account, your profile information may be displayed with your comment depending on your privacy settings. By leaving the 'Post to Facebook' box selected, your comment will be published to your Facebook profile in addition to the space below.