Making Change: Ecotrust's Astrid Scholz talks local and global efforts
By Mark Feldman with Ecotrust's Astrid Scholz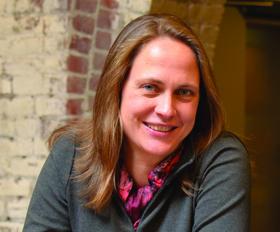 Astrid Scholz is president of Ecotrust.
Astrid Scholz is the president of Ecotrust, which she describes as a "holding company," a hybrid of nonprofit and for-profit ventures. All of these work towards Ecotrust's goal of fostering development that "creates economic opportunity, social equity and environmental wellbeing."
Astrid has a PhD in Energy and Resources from the University of California at Berkeley and has worked with Ecotrust for 12 years.
Mark Feldman: How do you explain your success?
Astrid Scholz: Persistence and fearlessness to tackle the difficult questions and get into the middle of some complicated issues. Sometimes people are looking for the simple answers, the simple approach, the simple theory of change. But the problems that we're dealing with are complex. So, the solutions are going to be complex, too. You can't be afraid to just launch onto a path of inquiring and hopefully making something happen.
We've built up a reputation for being comfortable working on the leading edge of complicated issues. For example, early on I worked in fisheries and was part of a project on the west coast of North America that got us thinking about how you could display socioeconomic information differently.
When the state of California got around to implementing its Marine Life Protection Act, I made a nuisance of myself at public forums saying, "You know you really ought to be paying attention to peoples' livelihoods because you're not going to get robust conservation outcomes if you don't pay attention to the economic realities of fishermen."
Eventually, the state said, "Well, this is clever, Dr. Scholz. Why don't you come and serve on our science advisory team? Secondly, why don't you go and collect these data for us?"
About the interviewer: Mark Feldman is a communications and writing consultant (
Writing Works
) who helps organizations tell their stories, engage their audiences and meet their goals.
Comments
If you are commenting using a Facebook account, your profile information may be displayed with your comment depending on your privacy settings. By leaving the 'Post to Facebook' box selected, your comment will be published to your Facebook profile in addition to the space below.