Making Change: Ryan Temple on good woods
By Mark Feldman with Sustainable Northwest Wood's Ryan Temple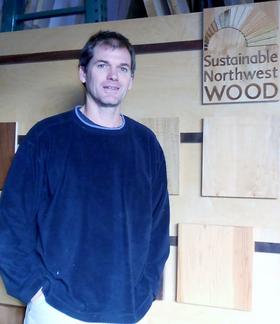 Ryan Temple is president of Sustainable Northwest Wood.
Ryan Temple is the president of Sustainable Northwest Wood, a for profit lumberyard that carries only wood from sustainably managed forests in the Pacific Northwest, the vast majority of which is certified to the Forest Stewardship Council (FSC) standard. Sustainable Northwest Wood was founded in 2008 as a subsidiary of the nonprofit Sustainable Northwest and works with small mills in rural communities.
Mark Feldman: How do you explain your success?
Ryan Temple: A big reason that we've managed to be successful and grow quite rapidly in what's been a pretty terrible economy for the building industry is that, for us, sustainability is not a component of our business; it is our business. This has allowed us to position ourselves very clearly and has helped us establish a high level of integrity. When a local contractor, a craftsman another retail yard, or a homeowner comes in and talks to us, they recognize that sustainability is embedded in all that we do.
That's really differentiated us. Imagine if you're a distribution yard and you had the good, sustainable wood, and then other wood. It can create an awkward situation. If this is the good wood, then what do you say about that one? We don't have to do that kind of dance. We don't have two versions of every product in our inventory. This keeps inventory costs down and makes it simpler for us to talk about our wood.
Since Sustainable Northwest Wood started in 2008 a lot of mainstream lumberyards have begun selling similar products, which is very positive. We need to stay ahead of the curve and make our product different, better, and more appealing. One way we do this is by offering an unparalleled depth of story. Rather than just saying, "Stamp. This is FSC-certified," we can talk in detail about where it actually comes from. Maybe it's from the Homestead Girl Scout Camp by Zigzag or from Nature Conservancy Land on Willapa Bay or from Warm Springs Reservation.
About the interviewer: Mark Feldman is a communications and writing consultant (
Writing Works
) who helps organizations tell their stories, engage their audiences and meet their goals.
Comments
If you are commenting using a Facebook account, your profile information may be displayed with your comment depending on your privacy settings. By leaving the 'Post to Facebook' box selected, your comment will be published to your Facebook profile in addition to the space below.