BMW takes aim at Tesla with i3 electric car
By Andy Giegerich
Digital Managing Editor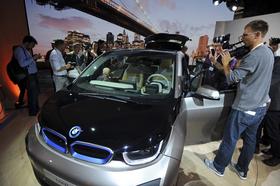 Members of the media surround the new Bayerische Motoren Werke AG (BMW) i3 vehicle at its unveiling in New York.
Tesla Motors will soon have more competition in the luxury electric car market.
BMW on Monday unveiled the i3 electric car, set to go on sale in the United States in the second quarter in 2014. According to a company press release, the car will have a base price of $41,350 or $45,200 with the reserve gas engine. The car could also earn tax credits in California.
In comparison, a Tesla Model S starts at about $69,900, minus incentives and tax credits.
"The BMW i3 is the first product of the new BMW i sub-brand, and is a truly purpose built electric car," the press release read. "It's a new era for electro mobility at BMW."
Read more about the potential BMW-Tesla electric rivalry at the Silicon Valley Business Journal.
Comments
If you are commenting using a Facebook account, your profile information may be displayed with your comment depending on your privacy settings. By leaving the 'Post to Facebook' box selected, your comment will be published to your Facebook profile in addition to the space below.