First Wind completes enclosures for endangered birds on Maui
By Jenna Blakely, Pacific Business News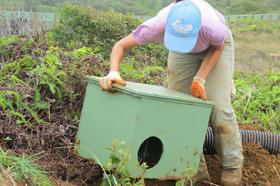 Alicia Rhoades, a habitat conservation plan compliance technician, installs a shearwater burrow near First Wind's Kaheawa Wind site on Maui.
Boston-based First Wind this week completed a habitat conservation plan that aims to protect endangered bird species near its Kaheawa Wind site on Maui.
The point of having a habitat conservation plan is to "minimize and mitigate" any damaging effects the company's wind projects might have had on the land. Read more on that here.
The Makamakaole Seabird Mitigation project is intended to protect Maui's endangered bird species through two bird enclosures that will serve as safety havens. The first of the two bird enclosures finished this past week.
"The project has been shaped with input from the community and with the support of local and international experts," Dave Cowan, First Wind's vice president for environmental affairs, said in a statement. "We look forward to seeing the site come to serve as a gathering place and safe haven for these vulnerable birds."
Read more about the efforts at Pacific Business News.
Comments
If you are commenting using a Facebook account, your profile information may be displayed with your comment depending on your privacy settings. By leaving the 'Post to Facebook' box selected, your comment will be published to your Facebook profile in addition to the space below.