GE abandons plans for Colorado plant
By Cathy Proctor, Denver Business Journal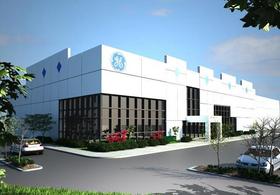 GE's rendering of its proposed Aurora plant. The company said this week it no longer plans to build the structure.
General Electric Co. said Tuesday it won't build the $300 million Aurora factory for thin-film solar power panels that GE and local officials announced with much fanfare in 2011, citing a glut of solar panels on the market and falling prices.
The industrial giant (NYSE: GE) also said it has sold its intellectual property portfolio for making cadmium telluride thin-film solar power panels to First Solar Inc., which makes thin-film panels.
GE received 1.75 million shares of Tempe, Ariz.,-based First Solar (Nasdaq: FSLR) stock as part of the deal and agreed to retain the shares for at least three years.
Based on today's closing price, the stock acquisition is valued at $81.8 million.
Read the Denver Business Journal's coverage for more on GE's decision.
Comments
If you are commenting using a Facebook account, your profile information may be displayed with your comment depending on your privacy settings. By leaving the 'Post to Facebook' box selected, your comment will be published to your Facebook profile in addition to the space below.