Tesla to unveil mainstream, cheaper model in 2015
By Sarah Drake, contributor, Silicon Valley Business Journal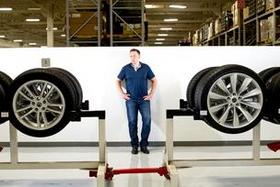 CEO Elon Musk stands with Model S wheels at Tesla's plant in Fremont, Calif. Musk's company plans to unveil a less-expensive Tesla version in 2015.
Electric car maker Tesla Motors will tap into the mainstream car market with a vehicle that could sell in the $40,000 range, and could become crucial to its future growth.
The Palo Alto, Calif.-based company run by Elon Musk could introduce the new model in 2015 at the North American International Auto Show in Detroit, though it wouldn't be up for sale until 2016 or 2017, the Los Angeles Times reports.
Aside from building a lower-priced model that could make Tesla a household brand, increasing vehicle production will be important for Tesla's future success, according to the article.
Building a more affordable vehicle will require the company to find a way to combine battery size, capacity and cost with a 200-mile driving range.
Tesla Motors Inc.'s Model S premium sedan starts at about $71,000, and its Model X sport-utility vehicle will debut in the same price range late next year.
Tesla has a showroom in Beaverton.
Comments
If you are commenting using a Facebook account, your profile information may be displayed with your comment depending on your privacy settings. By leaving the 'Post to Facebook' box selected, your comment will be published to your Facebook profile in addition to the space below.